WE SPECIALIZE IN TREES, BUSHES, CACTUS & MORE!
Come View Our Fig Tree Selection Today!
FIG TREES FOR SALE BY A&P NURSERY IN MESA, GILBERT, AND QUEEN CREEK ARIZONA
When you are searching for fig trees for sale or fig tree nursery near me in Gilbert, Mesa, or Queen Creek; A&P Nursery sells, delivers, and plants for you! We grow fig trees right here in the Phoenix Valley so you know that our trees are already accustomed to the heat and dryness of the desert. Whether you want to plant a new Black Mission Fig, Brown Turkey Fig or Kadota Fig tree our team will help you select the best out of our stock. You can choose to take it home yourself or we offer delivery and planting services.
AT A&P NURSERY WE GROW OUR FIG TREES LOCALLY IN OUR MESA, GILBERT, AND QUEEN CREEK NURSERIES!
WE DELIVER AND PLANT FIG TREES!
Fig tree delivery service is available Monday to Friday 7AM to 5:30PM. For citrus and fruit tree planting service details, please inquire at the closest A&P Nursery location to your home.
There's nothing better than fruit grown on your own land as it'll never be more fresh than straight off the tree. So if you love the sweet flavor of fig planting a fig tree in your landscape is a great idea. In addition to a great taste they are nutritious, don't require excessive watering, grow well in full sun, can grow 2 full harvests per year, and don't require pollination. There a hundreds of ways people enjoy figs such as fig chutney, dicing them into batter, and even along side your favorite meat with dinner.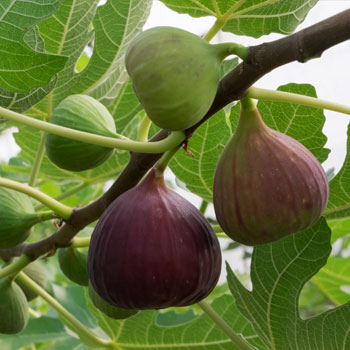 TWO HARVESTS A YEAR – Once fig trees are established they can easily grow 2 large harvests per year. Especially in the sun soaked warmth of our beloved Phoenix Valley.
LOW TO MODERATE WATERING – After these trees are established they do not need excessive attention in watering. They will only need low to moderate watering by hand or even drip line.
ENJOYS FULL SUN – We know that the Phoenix Valley gets more sunny days that just about anywhere else, and the fig trees love soaking in the sun and do well in our desert home.
GREAT LANDSCAPING TREE – In addition to being a great fruit bearing tree Fig trees are used as landscaping trees that fill up spaces and bring together your overall landscape design.
THE DELICIOUS TASTE OF FIGS – Figs have a delicious sweet flavor that will never be more fresh that coming straight from your backyard. Allow us to plant one for you and the figs will come.
THANK YOU FOR YOUR INTEREST IN FIG TREES FROM A&P NURSERY!
We're excited to help you transform your outdoor landscaping with trees, plants, and shrubs in Mesa, Gilbert, Queen Creek, Tempe, and the rest of the East Phoenix Valley.

"Impressed with the friendly and helpful customer service. All my questions were answered and helpful recommendations given. I purchased all the plants for last year's garden here as well, and had great results with in-ground and potted plants. I love that two gentlemen were kind enough to carry my purchases out to the car for me this morning. This is the kind of business that I want to support, now more than ever! Happy to spend my dollars here rather than at a big box retailer. Such a better experience all around! Thanks A&P!"

"I needed to buy some bushes for my home. Not knowing what I was looking for, I knew I would need help. I went to Home Depot…no help…I went to Lowe's…no help. Then I remembered A&P Nursery. What a find. As soon as I walked through the door, I was asked if I needed help. The young man that assisted me was sweet, kind, and knowledgeable. I was in and out within 15 minutes. He took the plants to the register and then proceeded to place protection in my car and loaded up the car for me…I highly recommend A&P Nursery."

"I have to start with the outstanding customer service that my wife and I received. We bought a dwarf palm and a raspberry ice plant. The staff was very knowledgeable and helpful. The staff did it all packed our plants recommended needed soil and loaded it up with no problem.I will only be going to this location because of the friendly staff and great customer service! If you want top notch service and beautiful plants, trees and anything you need for beautiful landscape go here."

"My wife and I have been shopping at the A&P nursery on Baseline and Lindsay for over 15 years and we have always had exceptional service. They staff is always willing and able to help us out – with educating us on what plants/trees would work best in various situations as well as always willing to assist us with loading. There are several options closer to my home but I will always continue to support the local business. Highly recommend this place!"

"A&P Nursery in Gilbert has been my family's go to place for years so when I bought my home there was no question on where I'd go. They have a great selection of plants and flowers. And, most importantly for me, a very friendly and knowledgable staff. They've all gone above and beyond to help me on many occasions, especially Luke. They are all locals and understand our growing climate. And if you are really lucky, you'll get to see the cat."

"All around a great experience! Very happy with our plants (we ordered north of 70+ plants) and the pricing was the best out of 5 nurseries we went to. From the moment we walked in, Dylan stepped up to help answer all our questions and was the one who also did the install. He was very knowledgeable and went above and beyond on the install. Will be back again soon!"

"Amazing customer service!! I'm so impressed. We're new homeowners and had no idea what kind of plants we wanted. I unfortunately didn't get his name but he was so knowledgeable and pointed us in the right direction! Very thankful we stopped by A&P Nursery. This will definitely be my go to."

"Oh my gosh! The guys at AP are so helpful and knowledgeable. Garrett even remembered my name and took the plastic out of my car door to line my ride while I paid. Of, course the plants are healthy, as they're local grown. Love this place!"